The greatest logos in the world are instantly recognisable. The likes of Nike, Coca Cola, Apple, Shell. You can picture them all, right? Not only are the brands behind them household names, but you can see their logos in your head without any effort. And that's what every business owner dreams of when designing a logo – a visual representation of their brand that customers see and immediately know who it belongs to.
A well-designed logo on its own won't make your business successful. But it certainly helps with building brand awareness and creating a familiarity for your customers. What makes you successful is the brand behind the logo and the customer experience it represents.
That said, if you have a poorly designed logo could alienate, offend, or damage your reputation as a brand. So it's important to take logo design seriously. Whether you have design skills yourself, or you hire a professional to do the job, be invested in the process.
Four pillars of logo design
There are four key principles that we recommend you stick to when creating your logo. A strong company logo should be:
Original.

It's fine to be inspired by other creative designs, but your logo needs to be unique to help you stand out from the crowd.
Simple.

The most impactful logos typically tend to be extremely simple in their design. A clean and uncluttered logo is much more versatile and can cut through a world of visual noise.
Appropriate.

You want a logo that is suitable for both your business, your market and your audience. Be led by your product and customers when defining the boundaries of your logo design.

Memorable.

One of the most important factors in logo design is that it's super easy to recognise and remember, wherever you see it.
These might sound like easy principles to adopt for your logo, but it will take time and creative effort to get it right. And remember, your first logo probably won't be your last. Some of the best brand logos evolve over time.
Sign up for full access
Navigating your way through what to do can be confusing – that's why we're building something pretty special to make your journey that bit easier.  Sign up now and receive regular updates… as well as early access when we launch!
The different types of logos
Sure logos are all a mix of colours, shapes and text. But it's more than that. Choosing the right type of logo is an important decision to help reinforce your brand identity. Here's a roundup of the various types and when they're typically best used.
Monogram logos
Monogram logos are made up of letters, typically brand initials – think of IBM, KFC, Louis Vuitton, or EA Games. Successful monogram logos come from brands that have turned long company names into punchy initials.
With this type of logo, the design is heavily based on the letters so the font type, size and colour are all key. And the initials need to be easy to ready, particularly when used in smaller formats such as business cards.
Also, one tip when creating a monogram logo for a new business – you might want to consider including the full business name underneath the logo to begin with, so that customers can easily learn who you are.
When to use a monogram logo:
✓  You have a long business name that you can condense to its initials
Logotypes
A logotype is very similar to a monogram logo, only instead of initials whole words are used. This is a great option if you have a short and punchy business name, like Google, Disney or Sony. If you can combine a short name with a distinct typography unique to your brand then you're on to a winner.
The bonus with logotypes is that your business name and logo are one and the same. Customers can quickly learn your business name and recognise your visual identity at the same time. And it helps if you have a catchy name too.
Because typography is integral to a logotype, you may want to consider creating a bespoke font for your brand. Just make sure it reflects your overall brand identity – whether it's simple and elegant or strong and bold, it needs to fit with your brand.
When to use a logotype:
✓  Your business has a short and catchy names
✓  You want complete synergy between your business name and your logo
✓  You want to get your brand name out there as effectively as possible
Logo symbols
For some brands, a strong and unique symbol or icon can be the ticket to a brilliant logo. The likes of Apple, Instagram and Shell have all used a logo symbol to create a distinct visual identity through their logo.
If you're keen on smacking a symbol on your logo then make sure you choose wisely. That symbol will become the cornerstone of your visual brand and you need to consider the wider implications when picking the symbol: Is it a play on the business name? Do you want it to have a deeper meaning? Is there a certain emotion you want to evoke?
When done well, a logo symbol alone is enough to recognise a brand. Though this can be a tough logo style for new businesses to use without strong brand recognition.
When to use a logo symbol:
✓  If you're planning for global commerce and your business name doesn't translate well
✓  There is a common symbol that clearly represents your business
✓  Your business name is long and the initials don't work well together
Abstract logo marks
An abstract logo mark is similar to using a logo symbol, only the symbol is one that has been created specifically for your brand. Abstract logo marks tend to use geometric shapes to uniquely represent your business. Some of the most common abstract logos are from brands like Pepsi, Nike and Spotify.
The great thing about abstract logo marks is that they create a single, strong brand image that is unique to your brand. The downside for a new business is that you rely on customers recognising the symbol without automatically understanding the symbol. Like with monogram logos, you might want to add your business name under the logo mark to reinforce brand recognition – just as we've done with GoFounder.
When to use an abstract logo mark:
✓  You want to invest in a professionally-designed logo that is completely unique
Emblem logos
If you're looking to create a more traditional image for your new business, an emblem could be a good option. An emblem will typically be a badge, seal or crest style element designed to make an impact. 
Emblem logos are hugely popular with car brands and sports clubs, but can also be used in other industries – from Ferrari and the England football team to Stella Artois and Warner Bros.
One thing to be aware of with an emblem is that they tend to be more detail-oriented, so can be less versatile when it comes to using them for branded real estate. It's a good idea to avoid an overly intricate design and opt for a simple, strong and bold logo instead.
When to use an emblem logo:
✓  Your business suits a more traditional image, such as a public agency or academic institution
✓  You want to include a sense of heritage or history in your brand identity
Combination logos
You guessed it, this type of logo combines typographical and pictorial elements to form the whole logo. It may be letters or words along with a symbol, abstract mark or mascot. By sitting the two elements together you combine the visual power of the symbol or mark with the business name or initials.
Think of Lacoste, Domino's Pizza or Dove. All of those combine their brand name with a pictorial element in their logo. The result of a combination logo is a greater amount of versatility as you simultaneously advertise both the name and the visual identity of your brand.
Using a combination logo is a smart option for most startups and new businesses, as customers will associate your business name and pictorial mark from day one. As your brand evolves you may even be able to use the logo symbol alone, without always needing to include the business name – a sign your brand is doing well.
When to use a combination logo:
✓  You want customers to associate your business name and logo symbol from the start
✓  A good choice for most businesses
✓  You're looking for a versatile and unique logo
Choosing colours
You may already have specific brand colours in mind, either that you've chosen or have been dictated by your products or services. That said, it's still worth considering the psychology of colours and what that could mean for your brand.
Red – A bold and powerful choice of colour. Typically associated with heightened emotions such as love, excitement, sex and passion, but also warning, anger and danger. Using red as either a primary or secondary colour can create an impactful logo, as long as you pick the right tone of red and are happy with drawing attention in a loud, playful way.
Orange – Orange is another playful colour, although less used than red. It will help you stand out with a punch of colour, but it generally less suitable for luxury or more serious brands. Orange often conjures up mental images of change, think autumnal leaves or the sky at sunrise and sunset. As such, brands adopting orange in their logo tend to be saying "we're different" or "it's time for a change".
Yellow – The cheery, sunshine colour. Yellow is generally considered to be one of the friendliest colours in the palette, radiating optimism, energy and youthfulness. Using yellow in your logo can signal a fresh, positive brand with a spring in its step. However, if it's mature or high end you're aiming for, yellow might not be the right choice.
Green – For logo design, green is considered to be a pretty versatile choice. It's not quite so intensely linked with brand personality traits, though using green does have some strong cultural connotations – most notably nature, the environment and money (particularly in the US). If you're using a colour as universal as green, use hues, logo shapes and typography to bring it to life for your brand.
Blue – If you look at the apps on your phone, you'll notice blue is currently the most popular colour used in logos. Symbolic of maturity, strength and dependability, blue has become extremely popular across the spectrum from the finance and tech worlds to food brands and social networks. Blue is a classic choice for displaying confidence and inspiring trust, but you'll need to work hard to stand out in a sea of blue logos out there.
Purple – Designers will tell you that working with purple can be a bit tricky, as one of the more unstable colours in the wheel. That said, it can give a sense of luxury with a modern feel and a splash of femininity. If you're looking for playful but high end, purple could be a good choice.
Pink – Vibrant, striking and full of energy. That's what pink brings to the table. Typically seen as a girly colour in the latter half of the 20th century, pink has taken on a new life in recent years. With gender boundaries and consumer attitudes changing, pink has become more than just a choice for 'girly' brands. Especially if you consider the spectrum of pinks from dusty pink through to neon magenta, it's a strong choice for a modern, youthful brand.
Black – Timeless and classic, black is used in slick logos across the board. Although not technically a colour, black provides a strong and stable base for a brand to build on. Typically associated with more high end brands but, interestingly, black logos can represent both modern and traditional brands. And the absence of colour can create an alluring sense of mystery or exclusivity.
Grey or silver – Thank Apple for putting grey logos on the map for modern brands. Although, grey and silver hues have been used in iconic logos for decades. It's an ideal middle ground between strong and stable black and more lighter, accessible colour tones. Use grey in your logo if you want to achieve a simple yet serious brand with a classic feel and a modern twist.
Founder story
"I've been down all the logo design routes – DIY, hiring a freelancer, calling in a favour with a friend, using a branding agency. Of course, the biggest thing to note is the costs. If you've got the money then yes, of course investing in your branding is a great idea, a no brainer, even – but if you're still in the stages whether you're scrimping and saving to try and get your idea off of the ground, then the reality is you can do a lot yourself. Don't get suckered into spending big money in the early days… you can always rebrand, just as I did – and despite what people say, it didn't make a blind bit of difference. In fact, if anything, it rejuvenated our customers interest and passion for what we did."
– Eddie Whittingham, Founder
Read more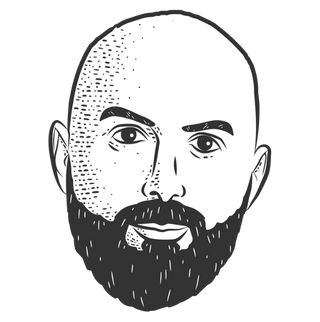 Getting your logo designed
There are generally three approaches to getting the design work done for your logo, depending on your skill set and budget:
1. In-house design
If you or one of your team have the design skills, you can develop your logo design internally. This will obviously save you money but beware, being too close to the brand can often affect your objectivity. 
If designing in house, make sure you use external sounding boards for your logo design. Show logo designs to friends, family or anyone else not working directly on your business to get unbiased opinions. And ask them to be brutally honest. It's much cheaper and easier to fix an offensive or weird-looking logo in the design stage than it is after you've branded everything with it down the line.
2. Engage a design agency
There are thousands of agencies out there whose bread and butter is branding and logo design. Some of them are amazing at what they do, but you'll often pay the price for their expertise. They're a great option if you can afford it, but if you have limited cash then maybe try a freelancer instead.
3. Hire a freelance designer
It's now easier than ever to find highly skilled designers on platforms like Fiverr and 99 Designs. You can provide a detailed brief and have designers pitch for the work, or hire them based on previous work and customer reviews. 
A couple of tips if you go down the freelancer route:
The more information you can give them about your business, brand and products/services, the better the resulting designs tend to be.

Always check their ratings and reviews from previous customers. There's a sea of freelancers out there so you want to make sure you're choosing one of the good ones.
Good luck getting your logo designed and we look forward to recognising your brand on websites, billboards and merchandise in the future!
Keep learning...
Check out our other articles for more tips, tricks and advice to help your startup succeed.
See all